"In the cut"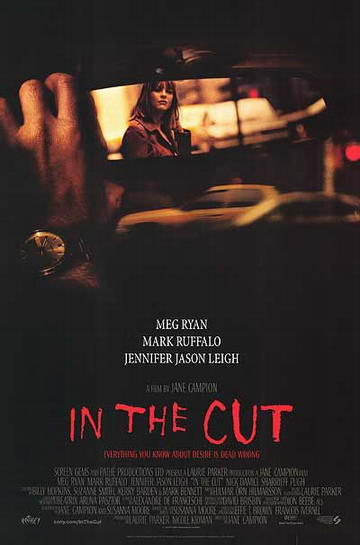 ---
TITOLO ITALIANO: "In the cut"

TITOLO ORIGINALE: "In the Cut"

REGIA: Jane Campion

SCENEGGIATURA: Jane Campion

DAL ROMANZO DI Susanna Moore

PRODUZIONE: AUSTRALIA / USA / REGNO UNITO 2003

DURATA: 113 minuti
PERSONAGGI

INTERPRETI

DOPPIATORI

FRANNIE
Meg Ryan
FRANCESCA FIORENTINI
DET. MALLOY
Mark Ruffalo
PASQUALE ANSELMO
PAULINE
Jennifer Jason Leigh
ANTONELLA BALDINI
DET. RODRIGUEZ
Nick Damici
ANGELO MAGGI
CORNELIUS WEBB
Sharrieff Pugh
FABRIZIO VIDALE
JOHN GRAHAM
Kevin Bacon
MARCO METE
su concessione SEFIT-CDC
ANGELA SANDS
Heather Litteer
BARISTA DEL RED TURTLE
Daniel T. Booth
DOPPIAGGIO ITALIANO: DEA 5
DIALOGHI ITALIANI: SILVIA MONELLI
DIREZIONE DEL DOPPIAGGIO: SILVIA MONELLI
---
Realizzazione 2003 Antonio Genna
AntonioGenna.net presenta IL MONDO DEI DOPPIATORI © 2001/03 Antonio Genna
E' consigliata una risoluzione 1024 x 768 con Microsoft Internet Explorer versione 5 o superiore
E' vietato inserire in altre pagine il materiale presente in questo sito senza autorizzazione!
---