"Gosford Park"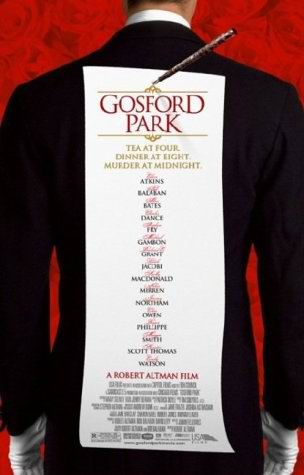 ---
TITOLO ITALIANO: "Gosford Park"

TITOLO ORIGINALE: "Gosford Park"

REGIA: Robert Altman

SOGGETTO: Robert Altman e Bob Balaban

SCENEGGIATURA: Julian Fellowes

PRODUZIONE: ITALIA / G.B. / USA / GERMANIA 2001

DURATA: 137 minuti

FILM VINCITORE DI 1 OSCAR PER miglior sceneggiatura originale.
| | | |
| --- | --- | --- |
| PERSONAGGI | INTERPRETI | DOPPIATORI |
| CONSTANCE TRENTHAM | Maggie Smith | MARZIA UBALDI |
| WILLIAM McCORDLE | Michael Gambon | LUCIANO DE AMBROSIS |
| SYLVIA McCORDLE | Kristin Scott Thomas | EMANUELA ROSSI |
| ISOBEL McCORDLE | Camilla Rutherford | ELEONORA DE ANGELIS |
| RAYMOND STOCKBRIDGE | Charles Dance | SANDRO IOVINO |
| LOUISA STOCKBRIDGE | Geraldine Somerville | PINELLA DRAGANI |
| ANTHONY MEREDITH | Tom Hollander | LORENZO MACRI' |
| LAVINIA MEREDITH | Natasha Wightman | ISABELLA PASANISI |
| IVOR NOVELLO | Jeremy Northam | VITTORIO GUERRIERI |
| MORRIS WEISSMAN | Bob Balaban | GIORGIO LOPEZ |
| FREDDIE NESBITT | James Wilby | ANTONIO SANNA |
| MABEL NESBITT | Claudie Blakley | ANNA RITA PASANISI |
| RUPERT STANDISH | Laurence Fox | VITTORIO DE ANGELIS |
| JEREMY BLOND | Trent Ford | ROBERTO GAMMINO |
| HENRY DENTON | Ryan Phillippe | FABRIZIO MANFREDI |
| ISP. THOMPSON | Stephen Fry | ALESSANDRO ROSSI |
| DEXTER | Ron Webster | VITTORIO STAGNI |
| MARY MACEACHRAN | Kelly McDonald | VALENTINA MARI |
| ROBERT PARKS | Clive Owen | FRANCESCO PANNOFINO |
| JANE WILSON | Helen Mirren | ADA MARIA SERRA ZANETTI |
| ELIZABETH CROFT | Eileen Atkins | RITA SAVAGNONE |
| ELSIE | Emily Watson | CHIARA COLIZZI |
| SIG. JENNINGS | Alan Bates | SERGIO DI STEFANO |
| SIG. PROBERT | Derek Jacobi | DARIO PENNE |
| GEORGE | Richard E. Grant | MARCO METE |
| DOROTHY | Sophie Thompson | STEFANELLA MARRAMA |
| ARTHUR | Jeremy Swift | ANGELO NICOTRA |
ALTRE VOCI: NINO PRESTER, CLAUDIO FATTORETTO, SANDRO SARDONE

DOPPIAGGIO ITALIANO: SEFIT-CDC

DIALOGHI ITALIANI: FILIPPO OTTONI

DIRETTORE DEL DOPPIAGGIO: FILIPPO OTTONI

ASSISTENTE AL DOPPIAGGIO: DANIELA LOSAVIO
ALCUNE NOTE SUL FILM
a cura di Eleonora
Candidato a sette premi Oscar (Miglior film, Miglior Regia, Miglior sceneggiatura originale, Miglior attrice non protagonista per Maggie Smith, Miglior attrice non protagonista per Helen Mirren, Miglior scenografia per Stephen Altman e Anna Pinnock, Migliori costumi per Jenny Beavan), il film ne ha vinto soltanto uno: Julian Fellowes per la Migliore Sceneggiatura originale.
Inoltre Robert Altman ha vinto un "Golden Globe" come miglior regista dell'anno, mentre ai BAFTA (gli oscar inglesi) ha vinto l' Alexander Korda Award come miglior film inglese dell'anno e per i Migliori Costumi.
Il film è stato prodotto dalla U.S.A. films.
Questo che segue è il discorso che ha fatto Fellowes al ritiro del premio.
I think I'll hold it, I don't want to let go of it now. I feel as if I'm in A STAR IS BORN and any minute now Norman Maine is going to come out and whack me in the mouth. Well obviously my thanks start with the great Robert Altman who has given me the biggest break in the movies since Lana Turner walked into Schwab's. And then Scott Greenstein and USA. Capital Films. Ileen Maisel who told me to write. Bob Balaban who got me the job. Cathy King. Duncan Heath. Ronni Chasen. And of course, my terrific son, Peregrine, and my wife, the beautiful Emma who has a lot to put up with. When I'm not working, I'm mean, moody and difficult. And then when I start on a new job I change into someone who is even more mean, moody and difficult. But finally, I want to thank the Academy and all of you for your tradition of kindness to foreigners like myself. I think you must be the most generous nation on Earth. So thank you very much and God bless America.
---
---
Realizzazione 2002/12 Antonio Genna
AntonioGenna.net presenta IL MONDO DEI DOPPIATORI © 2001/12 Antonio Genna
E' consigliata una risoluzione 1024 x 768 con Microsoft Internet Explorer versione 5 o superiore
E' vietato inserire in altre pagine il materiale presente in questo sito senza autorizzazione!
---