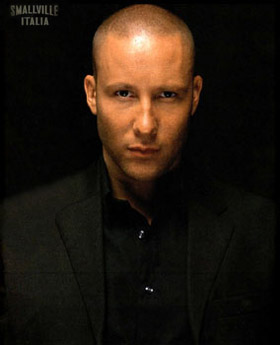 Data di nascita: 11 Luglio 1972
Luogo di nascita: Oceanside, Long Island, NY, USA
Nome: Michael Owen Rosenbaum
Occhi: Verdi
Capelli: Castani
Altezza: 182 cm
Michael Rosenbaum, cresciuto a Newburgh, Ind., scopre la passione per la recitazione alla scuola superiore. Prosegue gli studi di retorica e teatro alla Western Kentucky University. Durante le pause estive, partecipa attivamente ad alcune produzioni teatrali.

Dopo la laurea, trasferitosi a New York, ottiene ruoli in lavori teatrali off-Broadway e piccoli film indipendenti. Ciò presto lo conduce a frequenti apparizioni al "Late Night with Conan O'Brien" con lo sketch "The Amsterdam Kids".
Diventa parte integrante di "The Tom Show" con Tom Arnold e ottiene il ruolo di Jack in "Zoe, Duncan, Jack & Jane".

Sul grande schermo, Rosenbaum può essere visto in "Sweet Noivember", con Keanu Reeves, "Urban Legend " e "Midnight in the Garden of Good and Evil".

Nel 2002, nelle sale americane, è proiettato il film di Rosenbaum "Sorority Boys", dove recita accanto a Harland Williams e Barry Watson. Fa anche parte del cast principale del film "G.S.P.O.T." con Tom Arnold ed è il protagonista del film indipendente "Poolhall Junkies" con Christopher Walken, Rick Schroder e Chaz Palminteri.

Rosenbaum vive a Los Angeles, è tesserato in una lega di hockey su ghiaccio, suona la chitarra ed occasionalmente si diverte con i video game.


Rosenbaum intepreta il ruolo di Alexander Joseph Luthor, figlio di Lionel Luthor, potente proprietario della Luthor Corporation. Nato nel 1980, all'età di 9 Lex, si trova a Smallville il giorno della caduta dei meteoriti, causa irrimediabile della caduta dei suoi luminosi capelli rossi. Deriso da piccolo, comincia, col tempo, a considerarlo come un dono: è la sua caratteristica, la sua forza (vedi dialogo con Clark ep.1.7).

Sua madre muore nel 1993. Frequenta scuole in tutta Europa. Ottiene una laurea in ingegneria biochimica, nonostante seri problemi con la disciplina. Suo padre, gli assegna la gestione di una fabbrica periferica a Smallville. Inizialmente riluttante, s'appassiona alla nuova attività e in seguito rifiuta con fermezza alle richieste del padre di tornare all'ovile, Metropolis. In cuor suo, vorrebbe distruggere il commercio di Lionel ed assumere la direzione della LuthorCorp.
Arrivato a Smallville, è vittima di un incidente automobilistico che coinvolge anche Clark Kent. I due diventano amici. Per Clark, Lex è il fratello maggiore che non ha mai avuto.

Le uniche donne a cui riesce a legarsi sono Victoria Hardwick e la Dott.ssa Helen Bryce.