Guida agli episodi di Futurama
Vai alla guida TV di "Futurama"
Cliccate sul numero o sul titolo di ciascun episodio per leggere, se disponibile, un elenco di guest-star, sceneggiatore e regista dell'episodio, la trama, le canzoni presenti ed altri dati disponibili.
---
I lungometraggi

Numero
episodio

Titolo originale

Uscita DVD

Titolo italiano

Uscita DVD

F.1
Bender's Big Score
11/2007
Il colpo grosso di Bender
3/2008
F.2
The Beast with a Billion Backs
6/2008
La bestia con un miliardo di schiene
6/2008
F.3
Bender's Game
11/2008
Il gioco di Bender
11/2008
F.4
Into the Wild Green Yonder
2/2009
Nell'immenso verde profondo
2/2009
---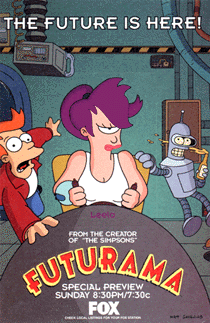 © 2000/12 Antonio Genna - Futurama Italia
Tutti i testi presenti nella guida agli episodi non sono riproducibili!
Vai alla guida TV di "Futurama"