Cast tecnico e riconoscimenti di Friends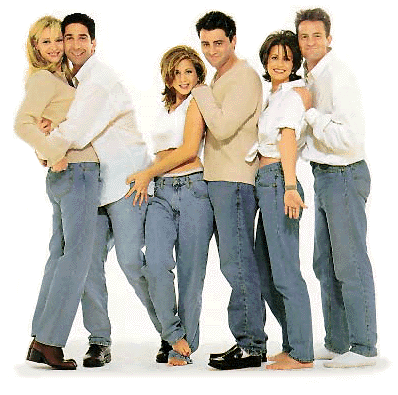 ---
Titolo originale: "Friends"
Titoli alternativi poi scartati: "Across the Hall" , "Friends Like Mine" , "Six of One"
Debutto negli U.S.A.: 22 settembre 1994 sulla NBC
Regia: Robby Benson, Peter Bonerz, Kevin Bright, James Burrows, Dana DeVally, Pamela Fryman, Ellen Gittelsohn, Gary Halvorson, Terry Hughes, Shelley Jensen, Paul Lazarus, Michael Lembeck, Gail Mancuso, Alan Myerson, Mary Kay Place, Joe Regalbuto, Arlene Sanford, Thomas Schlamme, Sam Simon, David Steinberg, Steve Zuckerman e altri.
Creato da: David Crane e Marta Kauffman.
Musiche: Michael Skloff. La sigla "I'll Be There For You" è cantata dai Rembrandts che hanno pubblicato la canzone nel loro album "LP" (1995) e nel CD "Friends", colonna sonora della serie TV.
Casa di produzione: Bright/Kauffman/Crane Productions in associazione con la Warner Bros Television.
Produttori esecutivi / Sceneggiatori: Marta Kauffman e David Crane, Kevin S. Bright.
Co-produttore esecutivo: Michael Borkow
Consulenza creativa: Richard Rosenstock
Produttore: Todd Stevens
Produttori: Alexa Junge, Adam Chase, Ira Ungerleider, Michael Curtis e Greg Malins
Story editor: Wil Calhoun e Seth Kurland, Shana Goldberg-Meehan e Scott Silveri
Coordinamento alla produzione: Wendy Knoller
Art director: John Shaffner
Designer dei costumi: Debra McGuire
Direttore della fotografia: Mikel Neiers
Episodi: durata 22 minuti; girati a Burbank, California
Premi: 1998 ASCAP Award Top TV Series; 1998 Emmy "Outstanding Supporting Actress in a Comedy Series:" Lisa Kudrow; 1996 Emmy "Outstanding Individual Achievement in Directing for a Comedy Series:" Michael Lembeck - episodio "Il grande Marcel"; 1996 SAG Award "Outstanding Performance by an Ensemble in a Comedy Series". Varie nomination agli Emmy, GLAAD, Golen Globe, People's Choise Award, SAG.
---
FriendsMANIA © 1999-2002 Antonio Genna