La sala stampa di FriendsMANIA
Stampa estera
BRAD'S BEARD IS PITS FOR JENNIFER
---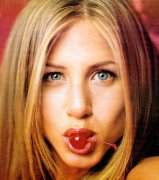 Brad Pitt is REALLY irritating Jennifer Aniston -- but it's not what you think! Lately Jen has to spend more time in the makeup chair before taping Friends. And her hubby Brad Pitt is taking full blame! Brad has grown a prickly beard for his new sci-fi flick The Last Man, and the growth is rubbing Jennifer's usually flawless face the wrong way. Even though Jennifer, 33, now requires about 20 extra minutes getting her peaches-and-cream complexion perfect for the show, she told Brad, 38, his stubble is definitely worth the trouble. She knows the movie is important to Brad, so she's turning the other cheek until he finishes -- sometime this fall!
(March 29, 2002 - STAR MAGAZINE)
---
Friends TM e ©Copyright 1994-2002 Warner Bros
La sala stampa di FriendsMANIA © 2002 Antonio Genna
Tutto il contenuto del sito FriendsMANIA non č riproducibile senza autorizzazione!