"Masters of Sex"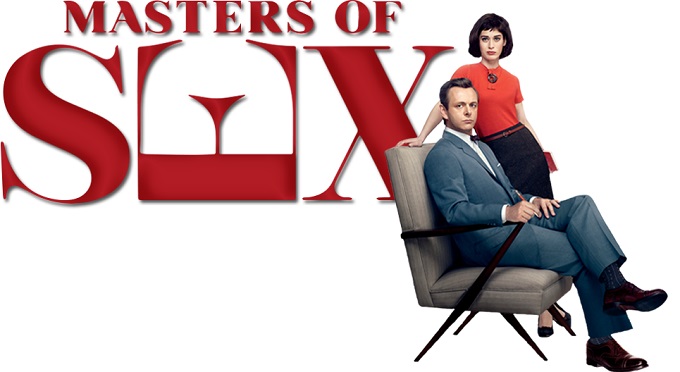 ---
TITOLO ITALIANO: "Masters of Sex"

TITOLO ORIGINALE: "Masters of Sex"

PRODUZIONE: Round Two Productions/Timberman-Beverly Productions/Sony Pictures Television/Showtime Networks

TRASMESSO NEGLI USA: Showtime, dal 29 settembre 2013 al 13 novembre 2016

TRASMESSO IN ITALIA: Sky Atlantic HD, dal 9 giugno 2014 all'8 marzo 2017; Cielo, dal 2 luglio 2019 (s.1-2)

NUMERO EPISODI: 46 (4 stagioni)

DURATA EPISODIO: 55 minuti
| | | |
| --- | --- | --- |
| PERSONAGGI PRINCIPALI | INTERPRETI | DOPPIATORI |
| DOTT. WILLIAM H. MASTERS | Michael Sheen | ALESSIO CIGLIANO |
| DOTT.SSA VIRGINIA E. JOHNSON | Lizzy Caplan | FRANCESCA FIORENTINI |
| LIBBY MASTERS | Caitlin FitzGerald | VALENTINA MARI |
| DOTT. AUSTIN LANGHAM | Teddy Sears | ANDREA LAVAGNINO |
| BETTY DiMELLO | Annaleigh Ashford | ALESSANDRA CHIARI |
| DOTT. ETHAN HAAS (s.1-2) | Nicholas D'Agosto | FRANCESCO VENDITTI |
PERSONAGGI RICORRENTI

INTERPRETI

DOPPIATORI

BARTON SCULLY
Beau Bridges
PAOLO BUGLIONI
JANE MARTIN
Heléne Yorke
MICHELA ALBORGHETTI
LESTER LINDEN
Kevin Christy
GIANLUCA MACHELLI
GEORGE JOHNSON
Mathew Zickel
TESSA JOHNSON
Kayla Madison (s.1-2)
Isabelle Fuhrman (s.3-4)
HENRY JOHNSON (s.1-3)
Cole Sand (s.1-2)
Noah Robbins (s.3)
MARGARET SCULLY (s.1-3)
Allison Janney
AURORA CANCIAN
VIVIAN SCULLY (s.1-2)
Rose McIver
LUCREZIA MARRICCHI
DOTT.SSA LILLIAN DePAUL (s.1-2)
Julianne Nicholson
ALESSANDRA CASSIOLI
ESTABROOKS 'ESSIE' MASTERS (s.1-2)
Ann Dowd
LORENZA BIELLA
GENE MORETTI (s.1-2)
Greg Grunberg
DALE (s.1)
Finn Wittrock
ALESSANDRO BUDRONI
MAUREEN (s.1)
Nicholle Tom
RACHELE PAOLELLI
HELEN (s.2-4)
Sarah Silverman
BARBARA SANDERSON (s.2)
Betsy Brandt
FRANCIS 'FRANK' MASTERS JR. (s.2)
Christian Borle
CORAL (s.2)
Keke Palmer
ROBERT FRANKLIN (s.2)
Jocko Sims
DOTT. CHARLES HENDRICKS (s.2)
Courtney B. Vance
DOTT. DOUGLAS GREATHOUSE (s.2)
Danny Huston
MASSIMO CORVO
FLO PACKER (s.2)
Artemis Pebdani
SHEP TALLY (s.2)
Adam Arkin
DAN LOGAN (s.3)
Josh Charles
NORA EVERETT (s.3)
Emily Kinney
PAUL EDLEY (s.3)
Ben Koldyke
RONALD STURGIS (s.3)
Colin Woodell
DOTT. ART DREESEN (s.4)
Jeremy Strong
DOTT.SSA NANCY LEVEAU (s.4)
Betty Gilpin
LOUISE BELL (s.4)
Niecy Nash
DODY OLIVER (s.4)
Kelli O'Hara
DOPPIAGGIO ITALIANO e SONORIZZAZIONE: CDR
DIALOGHI ITALIANI: GIAN PIETRO TOMASINI
DIREZIONE DEL DOPPIAGGIO: FRANCESCO MARCUCCI
FONICO DI MIX: CRISTIAN POLINI
NOTE SUL TELEFILM
La serie, sviluppata da Michelle Ashford, adatta il romanzo biografico "Masters of Sex: The Life and Times of William Masters and Virginia Johnson, The Couple Who Taught America How To Love" di Thomas Maier, ed č incentrata sui veri pionieri della scienza della sessualitŕ umana, il ginecologo William Masters e la sua assistente Virginia Johnson, negli Stati Uniti degli anni 1950.
---
---
Realizzazione 2014/22 Antonio Genna
AntonioGenna.net presenta IL MONDO DEI DOPPIATORI - TELEFILM © 2002/22 Antonio Genna
E' consigliata una risoluzione 1024 x 768 con Microsoft Internet Explorer versione 5 o superiore
E' vietato inserire in altre pagine il materiale presente in questo sito senza autorizzazione!
---