"Malcolm"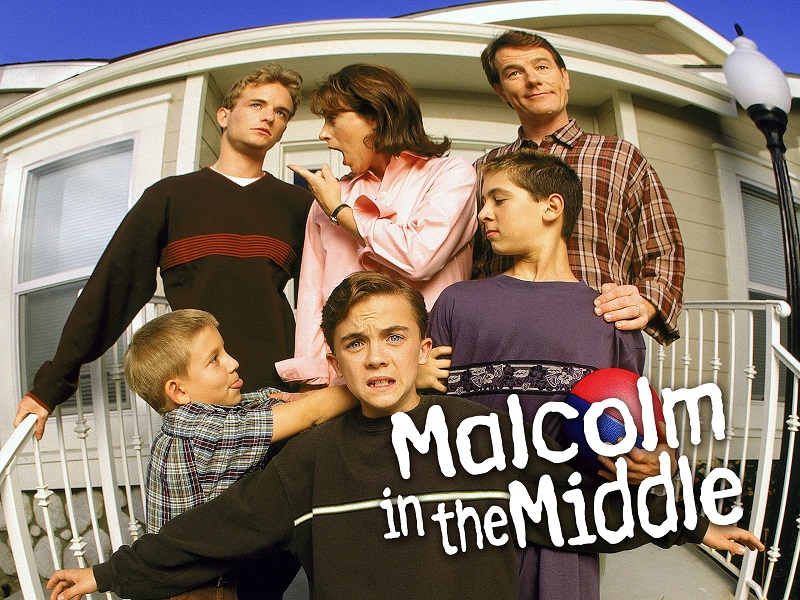 ---
TITOLO ITALIANO: "Malcolm"

TITOLO ORIGINALE: "Malcolm in the Middle"

PRODUZIONE: RIVR Media/Monarchy Enterprises B.V./Satin City Productions/Regency Television/Fox Television Network/20th Century Fox Television

TRASMESSO NEGLI USA: FOX, dal 9 gennaio 2000 al 14 maggio 2006

TRASMESSO IN ITALIA: Italia 1, dal 29 marzo 2004 al 5 febbraio 2008; Fox (repliche, dal 1° marzo 2005); Italia Teen Television (repliche, dal 1° novembre 2005); Joi (repliche, dal 5 febbraio 2008); Boing (repliche, dal 15 settembre 2008); Steel (repliche, dal 18 febbraio 2011)

NUMERO EPISODI: 151 (7 stagioni)

DURATA EPISODIO: 22 minuti
PERSONAGGI PRINCIPALI

INTERPRETI

DOPPIATORI

MALCOLM WILKERSON
Frankie Muniz
ILARIA LATINI (s.1-5)
ALESSANDRO TIBERI (s.6-7)
LOIS WILKERSON, la madre
Jane Kaczmarek
PINELLA DRAGANI
HAL WILKERSON, il padre
Bryan Cranston
ROBERTO CHEVALIER
FRANCIS WILKERSON
Christopher Kennedy Masterson
STEFANO CRESCENTINI
REESE WILKERSON
Justin Berfield
TATIANA DESSI (s.1-5)
DAVIDE PERINO (s.6-7)
DEWEY WILKERSON
Erik Per Sullivan
FRANCESCA MANICONE (s.1-5)
FURIO PERGOLANI (s.6-7)
CRAIG FELDSPAR
David Anthony Higgins
ROBERTO GAMMINO
EDWIN SPANGLER
Daniel Von Bargen
LUCIANO DE AMBROSIS
STEVIE KENARBAN
Craig Lamar Traylor
DAVIDE CHEVALIER
LAURIE (s.3-7)
Lauren Storm
PERLA LIBERATORI
PERSONAGGI RICORRENTI

INTERPRETI

DOPPIATORI

KITTY KENARBAN, madre di Stevie
Merrin Dungey
?? (s.1-2)
ROSSELLA ACERBO (s.3-7)
ABE KENARBAN, padre di Stevie
Gary Anthony Williams
MICHELE GAMMINO (s.1-2)
SIMONE MORI (s.3-7)
CADETTO ERIC
Eric Nenninger
DAVIDE PERINO (s.1-2)
DAVIDE LEPORE (s.3-7)
RICHIE
Todd Giebenbain
?? (s.1-2)
SIMONE CRISARI (s.3-7)
LLOYD
Evan Matthew Cohen
GIULIO RENZI RICCI
DABNEY
Kyle Sullivan
KEVIN
Victor Z. Isaac
ERASERHEAD (s.1-2)
Will Jennings
ALESSIO PUCCIO
STANLEY (s.1)
Karim Prince
RICCARDO ROSSI
ED (s.1)
Paul Willson
JULIE HOOVERMAN (s.1)
Landry Allbright
LETIZIA CIAMPA
CAROLINE MILLER (s.1)
Catherine Lloyd Burns
CYNTHIA (s.2-7)
Tania Raymonde
DOMITILLA D'AMICO (s.2)
LETIZIA SCIFONI (s.3-7)
IDA, la nonna (s.2-7)
Cloris Leachman
MIRANDA BONANSEA
PROF. LIONEL HERKABE (s.3-7)
Chris Eigeman
MASSIMO DE AMBROSIS
OTTO (s.4-7)
Kenneth Mars
ANGELO NICOTRA
LAVERNIA (s.3)
Brenda Wahle
ARTIE (s.3)
John Ennis
FRANCESCO PEZZULLI
PETE (s.3)
Sandy Ward
MAURIZIO MATTIOLI
GRETCHEN (s.4-7)
Meagen Fay
ALISON (s.4)
Brittany Finamore
VALENTINA MARI
NIKKI (s.4)
Reagan Dale Neis
DOMITILLA D'AMICO
BOYD, padre di Nikki (s.4)
Michael Shamus Wiles
ALESSANDRO ROSSI
PIAMA TANANAHAAKNA
Emy Coligado
ELEONORA DE ANGELIS
ALTRI PERSONAGGI

INTERPRETI

DOPPIATORI

MEG (ep.2.11-12)
Susan Sarandon
SERENA VERDIROSI
WALTER (ep.4.3)
Christopher Lloyd
MICHELE GAMMINO
JESSICA (ep.4.13, 6.4, 7.5-6)
Hayden Panettiere
?? (ep.4.13)
ILARIA LATINI (s.6-7)
PRESIDE BLOCK (ep.5.9)
Kurtwood Smith
SANDRO IOVINO
ANITA (ep.7.1)
Rosanna Arquette
TIZIANA AVARISTA
GEORGE TAKEI (ep.7.14)
George Takei
VITTORIO STAGNI
EDIZIONE ITALIANA: NATASHA GERODETTI (s.1-2), SANDRO FEDELE (s.3-7) (Italia 1 - Mediaset)
DOPPIAGGIO ITALIANO: SEFIT-CDC
DIALOGHI ITALIANI: LEONARDO PIFERI, SUSANNA PIFERI, FABRIZIO MANFREDI (s.1-2), ROSALBA MEREU (s.1-2), SILVA SAVIGNI TOMMASI (s.1-5), NADIA CAPPONI (s.6-7), LUIGI BRUNAMONTI (s.6-7)
DIREZIONE DEL DOPPIAGGIO: RENATO MORI
ASSISTENTE AL DOPPIAGGIO: CATERINA PIFERI
FONICI DI MIX: ANDREA POCHINI (s.1-2), CARLO LUCCHI (s.3-7)
NOTE SUL TELEFILM
La sit-com familiare è stata ideata da Linwood Boomer.
La sigla della sit-com è "Boss of Me", interpretata dai They Might Be Giants.
Nei titoli di coda italiani il protagonista era accreditato come "Malcom" (!).
---
---
Realizzazione 2002/22 Antonio Genna
AntonioGenna.net presenta IL MONDO DEI DOPPIATORI - TELEFILM © 2002/22 Antonio Genna
E' consigliata una risoluzione 1024 x 768 con Microsoft Internet Explorer versione 5 o superiore
E' vietato inserire in altre pagine il materiale presente in questo sito senza autorizzazione!
---