"Colombo" (1968)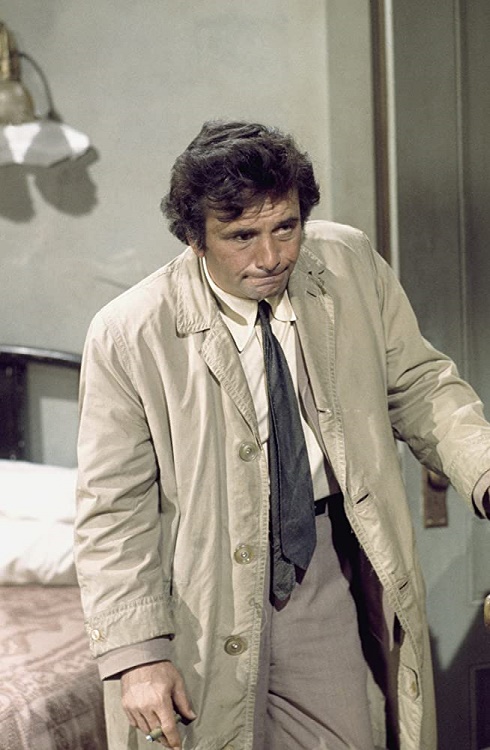 ---
TITOLO ITALIANO: "Colombo"

TITOLO ORIGINALE: "Columbo"

PRODUZIONE: Universal Television

TRASMESSO NEGLI USA: NBC, dal 20 febbraio 1968 al 13 maggio 1978

TRASMESSO IN ITALIA: RaiDue, dal 6 luglio 1977; Rete 4, dal 1989; Fox Crime (repliche, dall'8 giugno 2006); Fox Retro (repliche, dal 6 settembre 2010); Top Crime (repliche, dal 2 giugno 2013); Mediaset Extra (repliche, dal dicembre 2017)

NUMERO EPISODI: 43 (7 stagioni) + 2 ep. pilota

DURATA EPISODIO: 70 minuti (ep. pilota 1-2, ep.2.1, 2.4, 3.2, 3.3, 3.7, 3.8, 4.1, 4.3, 4.4, 5.1, 5.6, 7.3, 7.5: 90 minuti)
| | | |
| --- | --- | --- |
| PERSONAGGI PRINCIPALI | INTERPRETI | DOPPIATORI |
| TEN. COLOMBO | Peter Falk | GIAMPIERO ALBERTINI |
PERSONAGGI DI EPISODIO
e GUEST STAR

INTERPRETI

DOPPIATORI

JOANNA FERRIS

(ep.1.1)

Rosemary Forsyth
ADA MARIA SERRA ZANETTI
HELEN STEWART

(ep.1.3)

Suzanne Pleshette
FIORELLA BETTI
MRS. WALTERS

(ep.1.3)

Kate Reid
WANDA TETTONI
ROGER STANFORD

(ep.1.6)

Roddy McDowall
RENATO CORTESI
DORIS BUCKNER

(ep.1.6)

Ida Lupino
ANGIOLINA QUINTERNO
JANICE BENEDICT

(ep.2.1)

Blythe Danner

MELINA MARTELLO
CATHY GOODLAND

(ep.2.2)

Sandra Smith

ADA MARIA SERRA ZANETTI
PAUL HANLON

(ep.2.3)

Robert Culp
RENATO TURI
EVE BABCOCK

(ep.2.3)

Valerie Harper

ADA MARIA SERRA ZANETTI
NICHOLAS FRAME

(ep.2.4)

R

ichard Basehart

ORESTE RIZZINI
MAGGIORDOMO TANNER

(ep.2.4)

Wilfrid Hyde-White
ALBERTO LIONELLO
NORA CHANDLER

(ep.2.5)

Anne Baxter
BENITA MARTINI
JEAN DAVIS

(ep.2.5)

Pippa Scott
ANGIOLINA QUINTERNO
EMMETT CLAYTON

(ep.2.7)

Lawrence Harvey
PIETRO BIONDI
DEXTER e NORMAN PARIS

(ep.2.8)

Martin Landau
LUCIANO MELANI
VIVECA SCOTT

(ep.3.1)

Vera Miles
ANGIOLINA QUINTERNO
ADRIAN CARSINI

(ep.3.2)

Donald Pleasence
ORESTE LIONELLO
JOAN STACEY

(ep.3.2)

Joyce Jillson
ROBERTA GREGANTI
KAREN FIELDING

(ep.3.2)

Julie Harris
SOLVEJG D'ASSUNTA
EDDIE KANE

(ep.3.5)

John Davis Chandler
SERGIO DI GIULIO
RILEY GREENLEAF

(ep.3.5)

Jack Cassidy
RENATO TURI
TOMMY BROWN

(ep.3.7)

Johnny Cash
PIETRO BIONDI
PAUL GALESKO

(ep.4.2)

Dick Van Dyke
MARCELLO TUSCO
ALLIEVO SPRINGER

(ep.4.3)

Mark Wheeler
LUCA DAL FABBRO
HAYDEN DANZINGER

(ep.4.4)

Robert Vaughn
SERGIO DI GIULIO
VAN WYCK

(ep.4.5)

Oskar Werner
ALBERTO LIONELLO
DOTT. MARK COLLIER

(ep.4.6)

George Hamilton
PIETRO BIONDI
RACHMAN HABIB

(ep.5.2)

Sal Mineo
SERGIO DI GIULIO
SANTINI l'Illusionista

(ep.5.5)

Jack Cassidy
MARCELLO TUSCO
CHARLES CLAY

(ep.5.6)

Robert Vaughn
LUCIANO MELANI
MARK

(ep.6.1)

Bert Ramsen
ORESTE LIONELLO
OLIVER BRANDT

(ep.6.3)

Theodore Bikel
PIETRO BIONDI
ABIGAIL MITCHELL

(ep.7.1)

Ruth Gordon
WANDA TETTONI
JOE DEVLIN

(ep.7.5)

Clive Revill
ORESTE LIONELLO
DOPPIAGGIO ITALIANO: CVD
DIALOGHI ITALIANI: FERDINANDO CONTESTABILE, RUGGERO BUSETTI, ROBERTO BEDINI, OTTAVIO MARIA ROLANDI RICCI, DANIELA ALTOMONTE
NOTE SUL TELEFILM
Il personaggio del Ten. Colombo, creato da Richard Levinson e William Link, è stato ripreso dal 1989 in poi per una serie di film TV, di durata 90 minuti l'uno: per saperne di più cliccate qui.
Il primo episodio "Prescrizione: assassinio" (1968) fu adattato da una rappresentazione teatrale del 1962 degli stessi autori del telefilm. E' il primo dei due episodi pilota: l'altro è "Riscatto per un uomo morto" (1971).
Nel solo episodio "Riscatto per un uomo morto" Peter Falk è doppiato da Ferruccio Amendola per una versione cinematografica dell'episodio (indicata qui sotto), esiste comunque una versione dell'episodio doppiata come di consueto da Giampiero Albertini. Ambedue le versioni sono state replicate su Rete 4.
Di seguito, in dettaglio, le voci dei doppiaggi dei due episodi.

TITOLO ITALIANO: "Prescrizione: assassinio"

TITOLO ORIGINALE: "Prescription: Murder"

REGIA: Richard Irving

SCENEGGIATURA: Dean Hargrove, Richard Levinson, William Link

MUSICHE: Dave Grusin

PRODUZIONE: USA 1968

DURATA: 95 minuti
PERSONAGGI

INTERPRETI

DOPPIATORI

TEN. COLOMBO
Peter Falk
GIAMPIERO ALBERTINI
DOTT. RAY FLEMMING

Gene Barry

VITTORIO CONGIA
CAROL FLEMMING
N

ina Foch

SOLVEJG D'ASSUNTA
JOAN HUDSON
Katherine Justice
ROBERTA GREGANTI
TITOLO ITALIANO: "Riscatto per un uomo morto"

TITOLO ORIGINALE: "Ransom for a Dead Man"

REGIA: Richard Irving

SCENEGGIATURA: Dean Hargrove, Richard Levinson, William Link

MUSICHE: Billy Goldenberg

PRODUZIONE: USA 1971

DURATA: 95 minuti
| | | |
| --- | --- | --- |
| PERSONAGGI | INTERPRETI | DOPPIATORI |
| TEN. COLOMBO | Peter Falk | FERRUCCIO AMENDOLA |
| LESLIE WILLIAMS | Lee Grant | VITTORIA FEBBI |
| MICHAEL CLARK | John Fink | PINO COLIZZI |
| AGENTE CLARKSON | Harold Gould | GIORGIO PIAZZA |
| MARGARET WILLIAMS | Patricia Mattick | MICAELA ESDRA |
| PAT | Jean Byron | GERMANA DOMINICI |
| BERT | Timothy Carey | RENATO MORI |
Durante l'episodio, il personaggio di Margaret segue in televisione alcune scene del film "La fiamma del peccato" (1944) di Billy Wilder: per l'occasione, Fred MacMurray è doppiato da Pino Locchi e Barbara Stanwick da Rosetta Calavetta.
A seguire l'elenco completo degli episodi realizzati, tolti i due episodi pilota segnalati qui sopra (tra parentesi numero di stagione.numero di episodio ed anno di trasmissione statunitense):

Un giallo da manuale (Murder by the Book) (1.1, 1971)
Una trappola di Colombo (Death Lends a Hand) (1.2, 1971)
La pistola di madreperla (Dead Weight) (1.3, 1971)
L'arte del delitto (Suitable for Framing) (1.4, 1971)
Incidente premeditato (Lady in Waiting) (1.5, 1971)
Mio caro nipote (Short Fuse) (1.6, 1972)
Progetto per un delitto (Blueprint for Murder) (1.7, 1972)
Concerto con delitto (Étude in Black) (2.1, 1972)
Il terzo proiettile (The Greenhouse Jungle) (2.2, 1972)
Gioco mortale (The Most Crucial Game) (2.3, 1972)
Scacco matto a Scotland Yard (Dagger of the Mind) (2.4, 1972)
Il segreto di Nora Chandler (Requiem for a Falling Star) (2.5, 1973)
Il filo del delitto (A Stitch in Crime) (2.6, 1973)
L'ultimo scaccomatto (The Most Dangerous Match) (2.7, 1973)
Doppio shock (Double Shock) (2.8, 1973)
Bella ma letale (Lovely But Lethal) (3.1, 1973)
L'uomo dell'anno (Any Old Port in a Storm) (3.2, 1973)
Candidato per il crimine (Candidate For Crime) (3.3, 1973)
Alibi calibro 22 (Double Exposure) (3.4, 1973)
Un killer venuto dal Vietnam (Publish or Perish) (3.5, 1974)
L'omicidio del professore (Mind Over Mayhem) (3.6, 1974)
Il canto del cigno (Swan Song) (3.7, 1974)
Un amico da salvare (A Friend in Deed) (3.8, 1974)
Dalle sei alle nove (An Exercise in Fatality) (4.1, 1974)
Una mossa sbagliata (Negative Reaction) (4.2, 1974)
Alle prime luci dell'alba (By Dawn's Early Light) (4.3, 1974)
Assassinio a bordo (Troubled Waters) (4.4, 1975)
Playback (Playback) (4.5, 1975)
Testimone di se stesso (A Deadly State of Mind) (4.6, 1975)
L'ultima diva (Forgotten Lady) (5.1, 1975)
Un caso d'immunità (A Case of Immunity) (5.2, 1975)
Doppio gioco (Identity Crisis) (5.3, 1975)
Una questione d'onore (A Matter of Honor) (5.4, 1976)
L'illusionista (Now You See Him) (5.5, 1976)
L'ultimo saluto al Commodoro (Last Salute to the Commodore) (5.6, 1976)
Ciak si uccide (Fade in to Murder) (6.1, 1976)
Delitto d'altri tempi (Old Fashioned Murder) (6.2, 1976)
Prova d'intelligenza (The Bye-Bye Sky High I.Q. Murder Case) (6.3, 1977)
Prova a prendermi (Try and Catch Me) (7.1, 1977)
Vino d'annata (Murder Under Glass) (7.2, 1978)
Un delitto perfetto (Make Me a Perfect Murder) (7.3, 1978)
Un delitto pilotato (How to Dial a Murder) (7.4, 1978)
I cospiratori (The Conspirators) (7.5, 1978)

Peter Falk vinse tre Emmy Award (più 4 nomination) e un Golden Globe (più 5 nomination) come miglior attore di serie televisiva. La guest star Patrick McGoohan vinse l'Emmy Award per l'episodio "Alle prime luci dell'alba".
Il primo episodio trasmesso in Italia è stato "Progetto per un delitto" (tit. orig. "Blueprint for Murder"), in onda il 7 Luglio 1977 su RaiDue.
Il ruolo del tenente Colombo fu offerto anche a Bing Crosby. Il nome del protagonista non è mai stato rivelato.
La maggior parte degli episodi dura circa 70 minuti, molti altri circa 90, due episodi 60 (sono "Il terzo proiettile" e "Il segreto di Nora Chandler").
Alcuni attori compaiono come protagonisti in più di un episodio: Jack Cassidy (3 episodi), Robert Culp (3), Robert Vaughn (2), Ray Milland (2), Leslie Nielsen (2), Patrick McGoohan (2), Patrick O'Neal (2).
Molti attori famosi compaiono negli episodi: Roddy McDowall, Bradford Dillman, Honor Blackman, Leonard Nimoy, Martin Landau, Donald Pleasence, Johnny Cash, Dick Van Dyke, Patrick McNee, George Hamilton, Lesley Warren, Hector Helizondo, Ricardo Montalban, William Shatner, Robert Conrad, Louis Jourdan.
L'attrice Shera Danese, che compare negli episodi "Ciak si uccide" e "Vino d'annata", diventò la moglie di Peter Falk nel 1977 (lo è ancora adesso).
---
---
Realizzazione 2002/18 Antonio Genna
AntonioGenna.net presenta IL MONDO DEI DOPPIATORI - TELEFILM © 2002/18 Antonio Genna
E' consigliata una risoluzione 1024 x 768 con Microsoft Internet Explorer versione 5 o superiore
E' vietato inserire in altre pagine il materiale presente in questo sito senza autorizzazione!
---