"Friday Night Lights"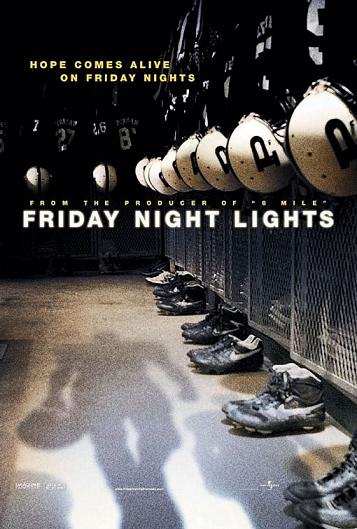 ---
TITOLO ITALIANO: "Friday Night Lights"

TITOLO ORIGINALE: "Friday Night Lights"

REGIA: Peter Berg

SCENEGGIATURA: David Aaron Cohen e Peter Berg

DAL LIBRO "Friday Night Lights: A Town, a Team, and a Dream" di H.G. Bissinger

MUSICHE: Brian Reitzell, David Torn, Explosions in the Sky

PRODUZIONE: USA 2004

DURATA: 118 minuti
PERSONAGGI

INTERPRETI

DOPPIATORI

COACH GARY GAINES

Billy Bob Thornton

ANTONIO PALUMBO

MIKE WINCHELL
Lucas Black

FRANCESCO PEZZULLI

DON BILLINGSLEY
Garrett Hedlund

DAVID CHEVALIER

BOOBIE MILES
Derek Luke

NANNI BALDINI

BRIAN CHAVEZ
Jay Hernandez

MARCO BARONI

IVORY CHRISTIAN
Lee Jackson

CHRIS COMER
Lee Thompson Young

CHARLES BILLINGSLEY
Tim McGraw

SHARON GAINES
Connie Britton

JENNIFER GAINES
Morgan Farris

L.V. MILES
Grover Coulson

SPEAKER
SERGIO LUCCHETTI
ROBERTO CERTOMA'
ALCUNE NOTE SUL FILM
Il film, uscito nelle sale italiane nel 2005 su distribuzione UIP, ha avuto una trasposizione televisiva con la serie "High School Team".
---
Realizzazione 2005/07 Antonio Genna
AntonioGenna.net presenta IL MONDO DEI DOPPIATORI © 2001/07 Antonio Genna
E' consigliata una risoluzione 1024 x 768 con Microsoft Internet Explorer versione 5 o superiore
E' vietato inserire in altre pagine il materiale presente in questo sito senza autorizzazione!
---